The Last Days of Ueli Steck
Published on May 30th, 2017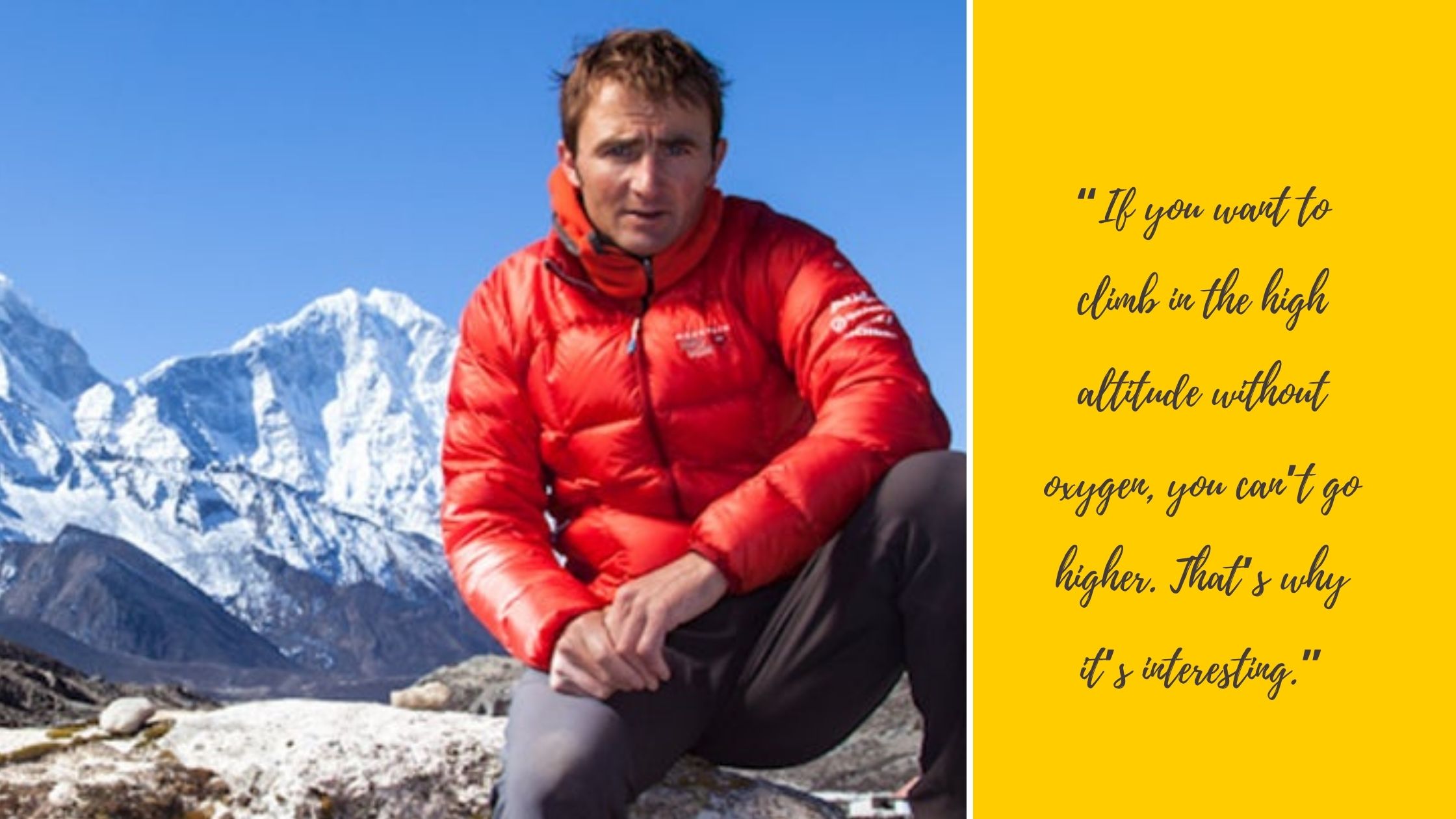 How one of the world's best mountaineers made a last-second decision that would take his life?
On the evening of April 29, roughly 15 hours before world-renowned alpinist Ueli Steck died in a fall in Nepal last month, he sent a text message by satellite phone to his climbing partner, 26-year-old Tenji Sherpa.
The pair had planned to climb to the South Col of Everest that day, an important step in their acclimatization, but Tenji got frostbite April 16 and had been recuperating in Base Camp on the mountain's south side. So Steck was at Camp 2 alone.
Tenji received Steck's message at 5 p.m. In it, Steck said he had decided to climb Nuptse, a 25,791-foot arrowhead about a mile southwest of Everest, the following morning. Then he would return to Base Camp to meet a pair of friends from Switzerland. Tenji was surprised. He knew Steck had a permit for Nuptse, but Steck had originally planned to attempt it after completing an audacious Everest-Lhotse traverse—summiting the world's tallest and fourth-tallest peaks in one push without supplemental oxygen. "The dessert," Steck called Nuptse when we spoke in late March, two weeks before he left his home in Interlaken, Switzerland. He and Tenji later revised their plan to include the possibility of attempting Nuptse the first week of May, if conditions permitted. But this was even earlier.
"If you want to climb in the high altitude without oxygen, you can't go higher. That's why it's interesting."
Tenji sent Steck a response immediately. "Are you going to climb alone or with friends?"
Steck never replied.
Around 8 a.m. the next morning, April 30, Tenji says he was "praying in Base Camp, waiting for him" when he received a call from a friend and fellow Sherpa in Camp 2. A third Sherpa had watched a climber fall approximately 3,000 feet down Nuptse's north face. (Members of other expeditions witnessed his fall, too.) Climbers soon confirmed it was Steck, having found his body in the Western Cwm between camps 1 and 2.
Nearly a month later, still no one knows what caused Steck to lose purchase on the face, which includes a mix of snow and ice up high. Steck had never climbed Nuptse. People surmised that he slipped, a shocking but hardly impossible fate, even for Steck, who at age 40 professed to be in the best shape of his career. To train for the Lhotse Traverse, he'd spent two weeks in February trail running at elevations up to 20,000 feet in the Khumbu Valley. "I just feel stronger," he told me. "My heart rate, I can push a lot more." This expedition marked his 25th to Nepal in the past 16 years.
"I was thinking when I got home in February," Steck said, "maybe I'll just go back to the Khumbu my whole lifetime until I don't climb anymore, because I see so many mountains and routes I still want to climb. And now I know the area better so I have better cards to play. I think I can push my limits more there than if I go to another area."
Steck and Tenji met in Kathmandu the second week of April and flew to Lukla, where they spent three days trekking to Everest Base Camp, just the two of them. On April 16, they carried tents and other supplies from Base Camp to Camp 2, a mission that proved costly for Tenji, who suffered frostbite on two fingers. A couple of days later, Steck came down with a fever. Instead of waiting out their maladies at 17,500 feet, the two men took a helicopter to Lukla, 8,000 feet lower than Base Camp, and spent three nights there. By the time they flew back to Base Camp on April 21, Steck had fully recovered. "After the second or third day he was sleeping fine, and then he was super fast going up," Tenji said in a telephone interview from Kathmandu. Steck soloed up toward the West Ridge one day, previewing part of their route. On April 25, he scurried from Base Camp to Camp 3 and back, covering 6,000 vertical feet each way—a route that would take most climbers four days.
Steck made it clear leading up to the expedition that the Lhotse Traverse was not a speed ascent. He simply hoped to complete the route, which included two never-repeated sections: the West Ridge/Hornbein Couloir combo that Americans Tom Hornbein and Willi Unsoeld took to Everest's summit in 1963, and a daring traverse from the South Col to the Lhotse Couloir pioneered by Denis Urubko of Kazakhstan in 2010.
That Steck had chosen Tenji to join him on the traverse seemed surprising, at least from the outside. But ever since Steck befriended the young Nepali five years earlier, he had become something of a mentor to Tenji. Steck often hired Royal Orchid Treks to handle his logistics, a company owned by Tenji's brother, Tendi. In 2012, when Tenji's clients decided not to pay him for their summit attempt, Steck invited Tenji to climb with him as an equal partner. "We were having tea together," Steck recalled, "and Tenji said, 'But I would like to climb Everest.' And I said, 'Do you want to try it without oxygen?' He said yes, so I was like, 'Just come with me, I'll help you out,' because he'd never climbed an 8,000-meter peak before."
People surmised that he slipped, a shocking but hardly impossible fate, even for Steck, who at age 40 professed to be in the best shape of his career.
They summited, and the following year, when Steck returned with Italian climber Simone Moro and British photographer Jonathan Griffith to attempt the Lhotse Traverse for the first time, he again invited Tenji to join them. (Griffith and Tenji were not planning to do the whole route.) On April 27, 2013,Tenji had just returned to Base Camp from Camp 2 when the infamous brawl erupted between the Europeans and a large group of Sherpas. The Sherpas punched Steck in the face and hit him in the head with a rock before he and his partners fled. After much reflection about the incident, Steck concluded he was simply in the wrong place at the wrong time.
Though Steck's technical climbing skills were far superior to Tenji's, and most everyone else's for that matter, he always struggled to find partners who could keep up with him at high altitude. Tenji, who grew up in the Solokhumbu District below Everest, fit the bill. Steck and Tenji climbed a handful of peaks together in Nepal—including Cholatse and Lobuche in 2015—before teaming up for a second attempt of the Lhotse Traverse this spring. Steck, who liked to pay for his expeditions himself, so as not to be in debt to sponsors when he made decisions, covered Tenji's expenses but nothing more. "We had to talk about that. In a normal Everest season, he makes eight or nine thousand dollars," Steck told me. "I think it's pretty cool that he wants to climb—it's not just business. It's a really good attitude in this new generation of Sherpas."
On April 30, Steck left Camp 2 around 4:30 a.m. and headed up the glacier with a French climber named Yannick Graziani, who was attempting Everest without oxygen. When Graziani continued toward Camp 3, Steck broke off to the right and began ascending Nuptse. Witnesses reported seeing him partway up the face around dawn. He is estimated to have fallen from a point about 1,000 feet below the summit, though no one saw it happen.
Neither Tenji nor Griffith, a frequent climbing partner who was in contact with Steck often during the expedition, believes it was unusual for Steck to climb Nuptse on a whim. "If I put myself in his shoes," Griffith wrote in an email to Outside, "he would have been in Camp 2 and seen conditions looked good on Nuptse. Why not climb Nuptse to acclimatize rather than the Lhotse Face to South Col? They're both the same height gain but at least Nuptse was a 'climb' and something new and a bit more interesting. It would have been as simple as that."
When Tenji's friend called to tell him the climber who'd fallen was Steck, Tenji says he had a "mental breakdown." He helped transport Steck's remains by helicopter to Lukla and later Kathmandu, then met Steck's wife and family for a pair of memorial services at the Tengboche Monastery and in Kathmandu later that week.
"For two weeks, my mind was not really working," Tenji said when we spoke on May 25. "Now, I'm good, but when I see news or photos [of Steck], I'm still very sad about it. He was one of my best friends."
Near the end of my interview with Steck in March, I wondered why the world's best alpinist—who spent much of his career climbing alone—would return to the Everest circus, where he'd nearly been beaten to death and where, as he noted himself, empty alternatives beckoned from every direction. He smiled into the camera at the top of his computer screen.
"If you want to climb in the high altitude without oxygen, you can't go higher. That's why it's interesting," Steck said. "Of course I climbed Everest without oxygen, but it's not the end of the story for me. The summit itself is not what counts. It's how'd you get there, what'd you climb, and there are really great opportunities to climb on this mountain. It's a beautiful place."
---
Originally published on "OUTSIDE ONLINE", https://www.outsideonline.com/outdoor-adventure/climbing/last-days-ueli-steck/, Accessed on May 30, 2017.
---
P H O T O G R A P H S B Y: © Grayson Schaffer -