K2 Crowds Arrive in Pakistan; Nepali Duo off to Manaslu
Published on December 21st, 2020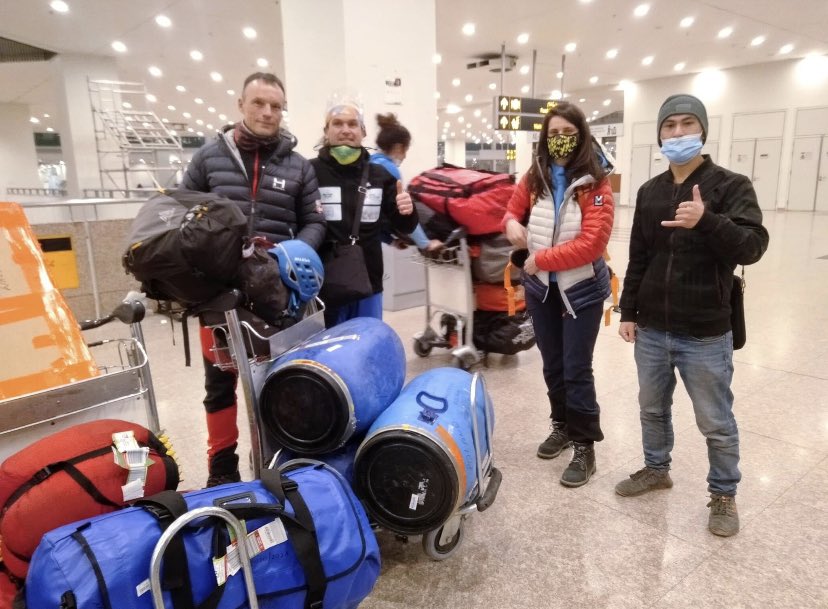 On this first day of winter, dozens of climbers have arrived in Islamabad, ready to make mountaineering history, for good or bad. Elsewhere, others are bound for "quieter" Manaslu and Broad Peak.
After playing cat-and-mouse for weeks about her winter plans, Italian Tamara Lunger has posted one of those "By the time you see this, I'll be…" videos, which she uploaded on the plane to Pakistan. Today, she landed in Islamabad with Waldemar Kowalewski, Colin O' Brady and his wife, Jenna Beshaw (who will accompany him to BC), Atanas Skatov, Antonios Sykaris, Sheny Mehmed Benzesh, and Marie and Josette Valloton, according to local operator Blue Sky Treks & Tours. Lunger will team up with Alex Gavan. Stay tuned for an exclusive interview with the pair later today.
Nirmal Purja and his Sherpa team arrived in Skardu yesterday, as did 19-year-old Adriana Brownlee.
Planes are managing to land in Skardu every day, thanks to relatively good weather, but the next few days will test everyone. Porters are hard to find and expensive to hire in winter, so the fewer of them needed for the 90km trek from Askoli to BC, the better.
A comprehensive list of the final numbers and names of climbers will be easier to compile once everyone reaches Base Camp. In addition, we have yet to see how participants will choose to split up into smaller mini-teams. Some are climbing more or less independently of the expedition operator whose permit they signed onto. However, true independence is hard to argue if everyone climbs the same route and a strong Sherpa team leads the way, fixing ropes and setting higher camps. Either the teams share the work on the mountain, as on Everest, or independence will be in name only.
Meanwhile, Simone Moro, with whom Tamara Lunger paired last winter, has chosen Nepal and the relatively quiet Manaslu, for a winter attempt with Alex Txikon and Iñaki Álvarez. They won't have the mountain to themselves, either: Tenji Sherpa and Vinayak Jay Malla, both IFMGA-certified Nepali guides, will try to climb Manaslu alpine-style, and without oxygen.
The Nepali pair may be new to winter climbing but both are 8,000m veterans. Malla has led successful expeditions on Everest, Lhotse, Manaslu, and Ama Dablam, as well as in the Alps and in India. Tenji was a climbing partner of the late Ueli Steck and credits the Swiss Machine with fostering his professional career. Tenji is the only Nepali to summit the North Face of Cholatse. He has also climbed Everest six times, including once without oxygen, and summited Lhotse, Manaslu, Lhakpa Ri, Nuptse, and Ama Dablam.
---
---
Finally, Russian-American Alex Goldfarb and Zoltan Szlanko of Hungary are proceeding with their somewhat tentative plans on Broad Peak. They arrive in Pakistan on December 28, trek to Base Camp without porters or guides, and climb no-02. They had hoped to enlist two other climbers, but in the end, the two of them will have to do all the work.
Moreover, they only have until the beginning of February before they have to return home, so they admit that their summit chances are almost nil. "This is more like a reconnaissance, but of course we will do our best to reach as high as possible," said Szlankó. "We did not want to lose this winter, but we can only use part of it."
---
Originally published on "Explorers Web", https://explorersweb.com/k2-crowds-arrive-in-pakistan-sherpa-duo-off-to-manaslu/, Accessed on December 21, 2020.
---
P H O T O G R A P H S  B Y : Blue Sky Treks & Tours & VInayak Jay Malla