In Ueli's Footsteps: Tenji Sherpa and Jon Griffith to Attempt Everest-Lhotse Traverse
Published on April 30th, 2017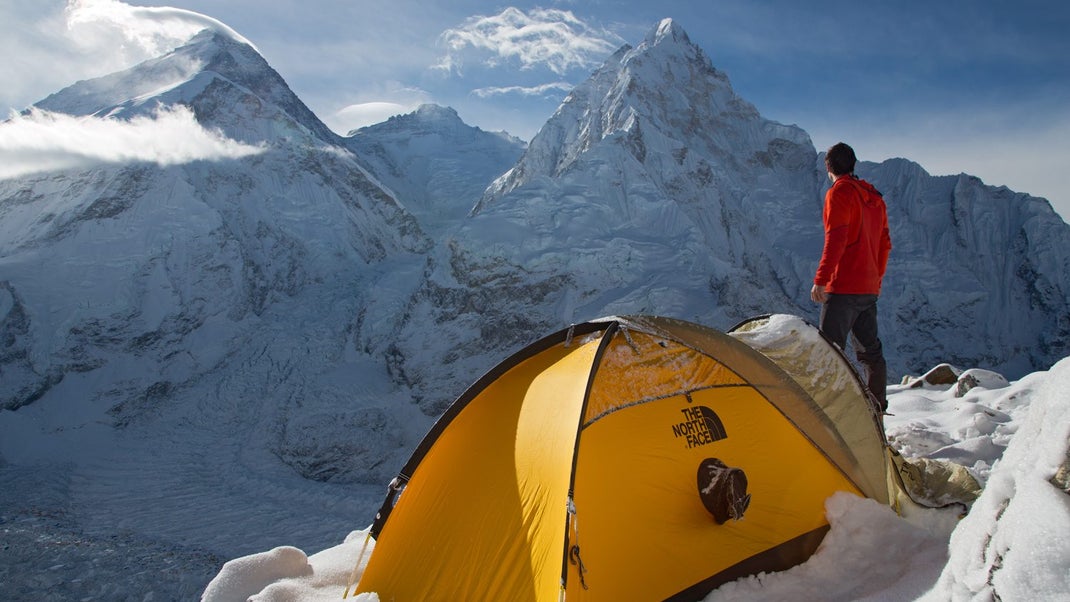 Two of Ueli Steck's closest friends and climbing partners will try to complete his last, unfinished climb.
Tenjing "Tenji" Sherpa was sitting in Everest Base Camp, letting his mildly frostbitten digits recover, when he got the news: his climbing partner, Ueli Steck, had that morning fallen to his death from the north face of Nuptse. The Swiss climber was climbing solo, preparing for an attempt at the never-before-completed Everest-Lhotse Traverse, which he and Tenji hoped to climb side-by-side. Tenji remembers in an email to Rock and Ice, "He was one of my best friends, my brother. He always motivated me for my climbs… It was one of the baddest moments in my life. I [had] never faced this kind of trouble before…"
While Tenji was in Base Camp when he learned of Ueli's death, the British alpinist and photographer Jon Griffith was in Chamonix, France, when he got the news. Griffith was one of Ueli's closest friends, and in 2013, had planned to attempt the Everest-Lhotse Traverse with Steck and Simone Moro before the trio's now-infamous, violent confrontation with Sherpa on Everest.
Now, one year after Ueli's death, Tenji Sherpa and Jon Griffith are back at Everest Base Camp, together. They will try to finish Ueli's journey—"his last great route," says Griffith, speaking via Skype from the foot of the mountain—that they each hoped to follow him on at one point in their lives.
---
---
On the 2013 expedition with Ueli and Moro, Griffith had plans to livestream large parts of their climb and film in virtual reality. Though things didn't work out for him to join Ueli and Tenji on the ill-fated expedition last year, Griffith and his Swiss friend were already planning on coming back to the region this spring—to finish the climb if he and Tenji were unsuccessful, or to do something else entirely—so that Griffith could breathe life into his fanciful, new-age documentary dreams. When Ueli died, Griffith's project seemed to also; everything was thrown into flux.
After the initial trauma of Ueli's death faded in the months after April 30, Griffith decided that he had to try and finish the Everest-Lhotse Traverse in his late friend's honor. "It had been such a focus of my work life," Griffith says, "that it felt like a really important chapter for me to close with Ueli." He needed to find someone who could join him this year "to do it in Ueli's style and ethic." When Kilian Jornet expressed interest, things seemed perfect; Ueli and the Spanish ultrarunner-climber had "great respect for each other as athletes," Griffith says. Unfortunately, Jornet suffered a broken leg in March of this year, and so Griffith assumed that fate had conspired against the expedition again.
In a serendipitous coincidence, he received an email from Tenji Sherpa the very next morning. Tenji explained that the client he was supposed to guide up Everest this year had broken his foot so his schedule was suddenly wide open. Griffith says, "I thought, 'Wow, that's the perfect story.' Ueli was Tenji's mentor. All of Ueli's expeditions in Nepal for many years, Tenji was on them somewhere—either in the background or climbing with him. So it felt really beautiful, for Tenji to attempt Ueli's last great climb, to try to finish off his mentor's climb in his mentor's style."
Tenji Sherpa grew up in the village of Sanam, in the Solukhumbu District, Nepal. His parents were farmers. Walking long distances became part of his routine from an early age: primary school was an hour by foot from his home, and secondary school was two hours. At 18 he began working as a porter, trying to save money for college. But he put his college plans on hold in 2012, when he was called up to the big leagues of portering: Everest. Through happenstance, he found himself climbing on the mountain that year with Ueli Steck, and the two of them reached the summit together. When this author interviewed Steck in early April 2017, just before he left for his final expedition, Steck said of Tenji, "He really enjoys climbing. It's why we get along so well together."
Since that first time up Everest with Ueli in 2012, Tenji has summited the highest mountain in the world another three times; Ama Dablam three times; become the first Nepali to climb the difficult North Face of Cholatse; and stood atop many other peaks, such as Lakpa Ri and Manaslu. During the years of his and Steck's friendship, Tenji traveled to the Alps and climbed with his mentor there. Steck paid for Tenji's guide courses, and "always motivated me in my climbing," Tenji says.
In 2017, Steck and Tenji had hoped to radically increase the difficulty of the already unprecedented Everest-Lhotse enchainment by making the first repeat of the Hornbein Route on the West Ridge, established by Tom Hornbein and Willi Unsoeld in 1963 as they became the second and third Americans to reach the summit. But as Tenji and Griffith began strategizing for a new attempt this year, they decided to forgo the risk and difficulty of Everest's West Ridge and simply try to complete the climb following Everest and Lhotse's normal routes.
Griffith says, "The West Ridge is a bit of a complicated one. Super gnarly, impressive stuff. Ueli wasn't even sure he'd have the energy to continue the traverse after [summiting Everest and] descending to the South Col. It's a monster route. I talked with Ueli a lot before he left for Nepal last year. He really wanted to do the Traverse, so he may have ended up doing the Normal Route anyway."
This year Tenji and Griffith will ascend Everest via the Normal route—the South Col Route—then backtrack to the saddle between Everest and Lhotse, ascend the latter via the standard route up the Lhotse Face, and finally return to Base Camp. They will spend the rest of April and most of May acclimatizing and preparing, before setting off in late May.
While the route will not be pure alpine-style ("It honestly doesn't exist on this mountain—the paths, fixed ropes, number of people," Griffith says), Tenji will climb as much in the style of his mentor as possible: without supplemental oxygen and shunning fixed ropes when it makes sense. Griffith will climb with supplemental oxygen, and will have two or three Sherpa helping him with all of the camera equipment.
Should they complete the Everest-Lhotse Traverse, it will be a milestone in a number of different ways. In terms of climbing, it will open the door to other enchainments in the Himalayas. The full horseshoe—Everest, Lhotse and Nuptse—will still be there for the taking.
The media that results from the expedition will also be noteworthy: not only will Griffith be breaking new ground with the livestreaming and 3D virtual reality footage he plans to capture on Everest, but Tenji will challenge the narratives of Everest so often seen by the wider world. "Everest is often about the white, Western man," Griffith says. "So it will be great to have the Sherpa in the limelight, and to let the Nepalese climbing community show the world what amazing climbers they are." Tenji says that if he completes the Traverse without supplemental oxygen, he thinks it "will be good for a young generation of Nepali climbers."
Finally, the climb will be a personal, cathartic journey for both alpinists. It will be an opportunity for both them to achieve a higher closure than simple mourning "It does feel a bit weird being out here again," Griffith says. "Half of me is focused on the production and everything, but half of me just wants to focus on the Traverse and Ueli; to be able to say goodbye to him up there."
"We lost one of best alpinists in the world," says Tenji, thinking of his friend. "This project I started last year with Ueli—if we complete this project he will be happy."
---
Originally published on "ROCKANDICE", https://www.rockandice.com/climbing-news/in-uelis-footsteps-tenji-sherpa-and-jon-griffith-to-attempt-everest-lhotse-traverse/, Accessed on April 30, 2017.
---