Swiss Machine, Ueli Steck killed in Mt Everest accident
Published on April 30th, 2017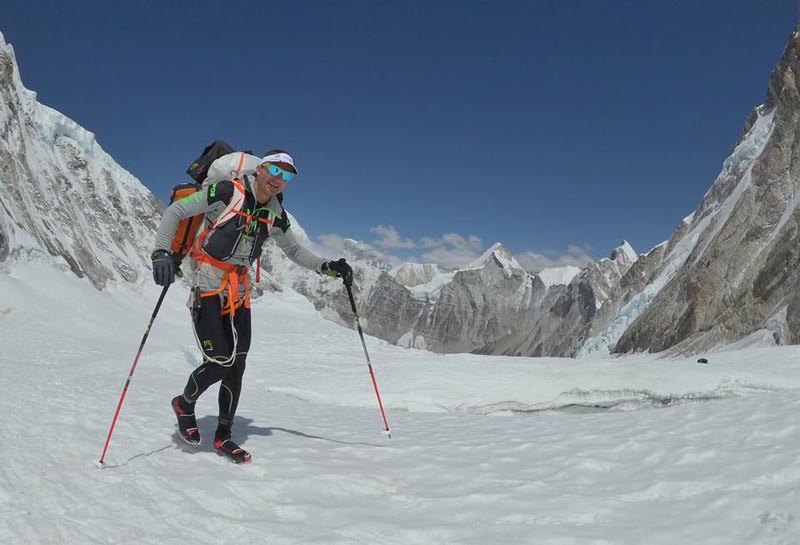 Ueli Steck (41), popularly known as 'Swiss Machine' in the mountaineering world, was killed in an accident near Camp II on Mt Everest on Sunday morning, multiple sources at the base camp of the world's highest peak confirmed.
A group of six rescuers discovered the body of the multiple-record holder mountaineer near the Nuptse Face of Mt Everest where he could have slipped and fell on the ice-covered slope. Fellow mountaineers had seen him climbing Mt Nuptse alone at around 4:30 am.
Steck, who won two Piolet d'Or awards in 2009 and 2014, is also famous for his speed records on the North Face trilogy in the Alps. He won his second award in 2014 after making the first solo ascent of Mt Annapurna. Steck who was the first recipient of the Eiger Award for his mountaineering achievements in 2008, also completed his 82 Summits project, ascending all 4000 m peaks in the Alps, in 61 days in 2015.
According to him, he spent two nights in camp II. His Facebook post on April 24 indicated that Tenzing suffered frostbite a few days ago. "Hopefully Tenzing Sherpa frostbite is getting better soon so we can be together on the mountain again."
In 2013, an ambitious plan to summit Mt Everest was foiled after Steck along with Italian alpinist Simone Moro and Jonathan Griffith engaged in a heated confrontation with rope fixing Sherpas.
Last year, Steck and his German climbing partner, David Göttler, spotted the bodies of Alex Lowe and David Bridges who died in an avalanche on Mt Shishapangma in 1999.
According to the Department of Tourism, Ueli Steck was a leader of one the Everest expeditions locally managed by Kathmandu-based Royal Orchid Treks and Expedition.
Steck was not only the greatest alpinist in the world but also a good friend of Nepal, senior Captain with Manang Air Ashish Sherchan who flew the alpinist to different locations on Mt Everest recently remembered.
"I can't express what a loss this is to the mountaineering community, Ueli loved Nepal, Everest and the Himalaya," renowned climber Alan Arnette commented from Colorado.
According to Durga Datta Dhakal, Director at the Department of Tourism, Ueli's body was airlifted to Lukla.
---
Originally published on "The Himalayan Times", https://thehimalayantimes.com/nepal/swiss-machine-ueli-steck-killed-in-mt-everest-accident, Accessed on April 30, 2018.
---