Nepalis on Manaslu: Yes, We're Going Alpine Style
Published on January 25th, 2021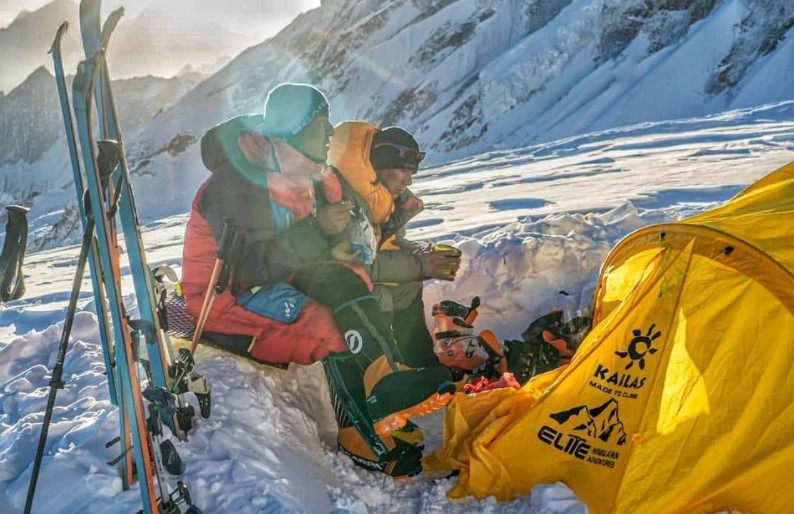 Teams on Manaslu are stuck in Base Camp because of high winds that were supposed to diminish on the weekend but have not.
Simone Moro and Alex Txikon wait patiently or try to. Earlier today, ExWeb contacted Vinayak Jay Malla and Tenji Sherpa for details on their own attempt, especially about their alleged change of mind regarding style. They gladly seized the opportunity to clarify their position.
"We have made no change of plans," their press manager, Jill Wheatley, told us. "The plan remains alpine style, though we will always choose safety above all. Alex and Simone have different goals than ours, and we have never considered joining [them]," she added.
---
---
The misunderstanding started after a journalist accompanying the Txikon expedition reported that the Nepalis had helped the Italian-Spanish team fix ropes to Camp 1. By the usual definition, alpine style means a single push from base camp to summit, so venturing partway up the mountain ahead of time is disqualifying. This is likely why the journalist assumed that they had changed their mind about alpine style.
But what do Malla and Sherpa understand by alpine style? Although they have been to Camp I, it's not known whether they slept there. In any case, not everyone in the climbing community agrees on the definition or how to apply a style originally designed for the Alps to a Himalayan scale. Read more about the debate here.
ExplorersWeb has reached out to Malla and Sherpa for their input.
Meanwhile, the Nepali pair has followed a smart strategy. During bad weather, they retreat to Samagaon village, where time passes more comfortably than at Base Camp. Simone Moro has also started to follow the same routine.
Malla and Sherpa have also brought their skis, which are extremely useful on the mountain's lower sections. "Skis are much more efficient in deep snow and have always been part of the plan," Wheatley explained. "However, it is not possible to skin all the way up, so the climbers will only use skis until Camp 1."
The team is feeling well and the winter weather has been as expected. "The [current] forecast calls for increasingly high winds followed by some snow," they reported.
Their expedition photographer, Abiral Rai, is not intending to summit but as an accredited IFMGA guide, he will join them well above Base Camp.
---
Originally published on "ExplorersWeb", https://explorersweb.com/nepalis-on-manaslu-yes-were-going-alpine-style/, Accessed on January 25, 2021.
---
P H O T O G R A P H S  B Y: Abiral Rai