Nepalese Manaslu winter expedition: "We have confidence in our abilities"
Published on December 22nd, 2020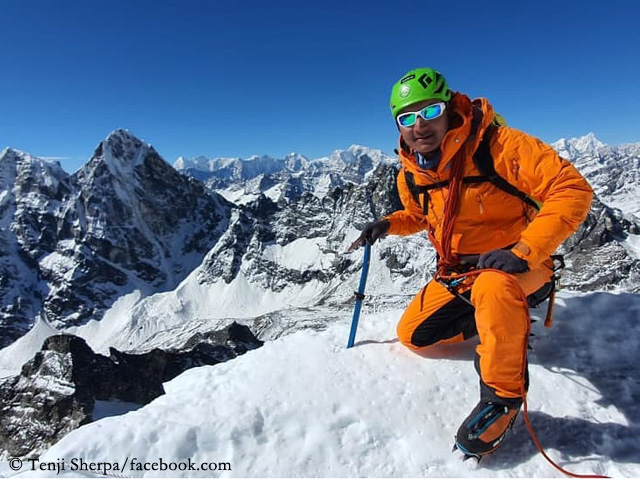 "We have had this project in mind for a long time," Tenji Sherpa writes to me. "Now is a good time to realize it. We as representatives of the young generation want to send a positive message to the world that Nepal's mountains are a safe destination."
The 29-year-old wants to climb the 8,163-meter-high Manaslu this winter with his 32-year-old Nepalese compatriot Vinayak Jay Malla – on the normal route via the mountain's northeast flank, in alpine style, meaning no fixed high camps, no fixed ropes and no bottled oxygen.
Helping others in their own backyard
Never before has a team made up entirely of Nepali climbers been successful on an eight-thousander in winter – in part because such expeditions simply didn't exist until this winter. "Many foreigners are inspired by our Himalayas and even hold records on them", says Tenji. "We have spent more than a decade challenging ourselves and helping others reach their goals in our own backyard. Since the corona pandemic has taken away our traditional work in recent months, we have been able to consider our own projects, keep developing our skills and broadening our experience."
On Everest, Lhotse and Manaslu
Both Tenji and Vinayak have an international mountain guide certificate and experience on eight-thousanders. Vinayak is from Mallaj, a small village about 20 kilometers west of Pokhara. He has scaled Mount Everest twice, in addition Lhotse and Manaslu.
---
---
Tenji, born in the village of Sanam in the Solu Khumbu, has reached the highest point on earth six times and, like his team partner, also summited Lhotse and Manaslu. On his first Everest success in 2012, the Sherpa climbed with late Ueli Steck – without bottled oxygen.
Ueli Steck's rope partner
The famous Swiss climber held high regard for his Nepalese rope partner, with whom he also climbed the north face of the six-thousander Cholatse in 2015. Tenji belonged "to a new generation of Sherpas who really enjoy mountaineering and don't just want to do business," Ueli told me a few weeks before he fell to his death on the 7,861-meter-high Nuptse at the end of April 2017.
---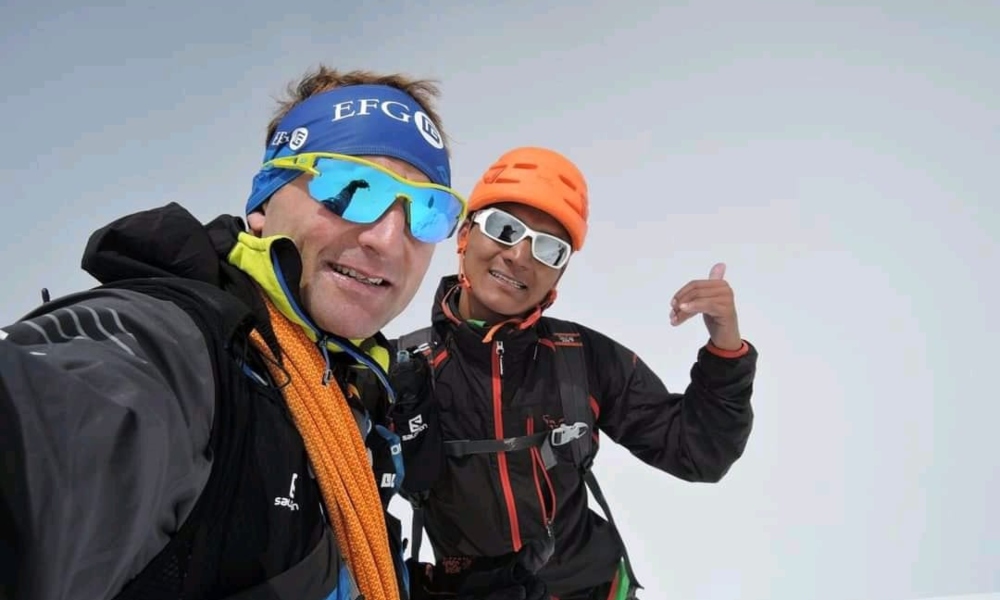 ---
Together with Tenji, Steck wanted to traverse Everest and Lhotse that spring. The Sherpa had suffered frostbite and was undergoing treatment in Lukla when the tragic accident occurred. "Ueli taught me to believe in myself," Tenji says today.
Support from Nims Purja
Tenji Sherpa and Vinayak Jaya Malla have often trained together but never been on an expedition as a team. For their Manaslu project, they received prominent support. Nirmal "Nims" Purja, just recently awarded the title "Sherpa of the Year" by the Asian Mountaineering Association (UAAA), lent them equipment and also supported them financially. Nims had made headlines around the world in 2019 when he summited all 14 eight-thousanders in six months – with a strong team and using bottled oxygen. This winter, as reported, Purja plans to try his hand at K2 in Pakistan.
---
---
While the base camp at the foot of the second-highest mountain on earth will be filled with around 60 climbers, Tenji and Vinayak will experience a lonesome Manaslu. Only Italian Simone Moro and the Spaniards Alex Txikon and Inaki Alvarez will pitch their tents there for a winter attempt.
Tenji is optimistic that Vinayak and he can become the first all-Nepalese team to succeed on an eight-thousander in winter in their home country: "We are confident in what we can control: our abilities and our gear."
---
Originally published on "Adventure Mountain", https://abenteuer-berg.de/en/nepalese-manaslu-winter-expedition-we-have-confidence-in-our-abilities/, Accessed on December 22, 2020.
---