Jon Griffith and Tenji Sherpa to Attempt Everest-Lhotse Traverse
Published on May 13th, 2018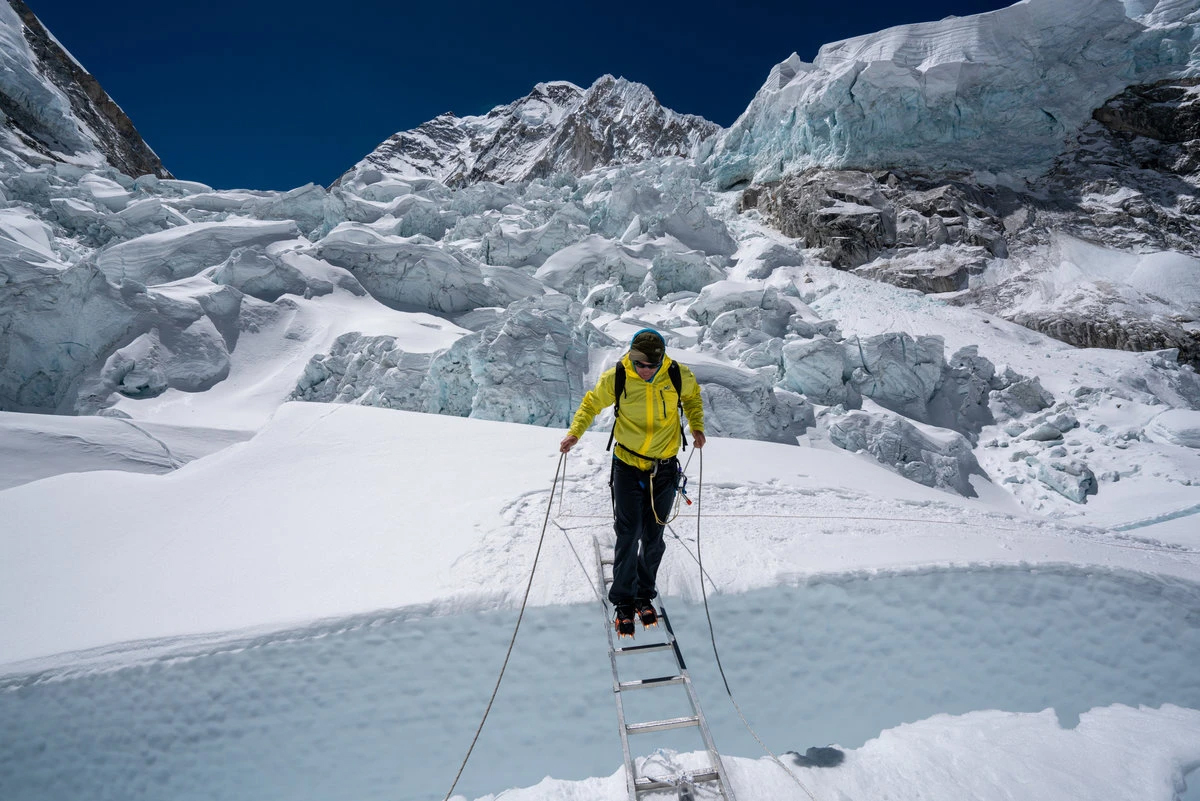 P H O T O G R A P H S   B Y: © Jon Griffith/Alpine Exposures
---
British alpinist Jon Griffith and Tenjing 'Tenji' Sherpa are preparing to attempt the elusive first Everest-Lhotse traverse in the coming weeks. The pair have teamed up to complete what was a long-held goal of Swiss alpinist Ueli Steck – a close friend of the pair and Tenji's partner for the ill-fated 2017 attempt, which was abandoned after Steck fell to his death during a solo acclimatisation ascent of Nuptse's north face.
In addition to honouring Ueli's life and achieving a mountaineering first, Jon has ambitious plans to document sections of the ascent via a livestream and 360 degree virtual reality video.
In a tribute to Ueli written shortly after his death last year, Jon wrote:
'I was privileged enough to be able to see him as a brother and one of my closest friends […]I owe my career and my life path to his faith and trust in me. We shared a same vision of capturing real climbing and the 'boundary' that few professional athletes are interested in dedicating their time to.'
In 2013, Jon intended to attempt the Traverse with Ueli and Simone Moro, but their widely reported clash with Sherpas on Everest forced the three climbers to return home. Kilian Jornet was the initially lined up to partner Jon, but when he broke his leg earlier this year, Tenji's schedule aligned with Jon's and a plan was hatched. A fitting partnership, since Tenji was mentored by Ueli, who paid for the young Sherpa's guide training.
---
---
At 26, Tenji has already proved himself as one of Nepal's best up-and-coming mountaineers. He grew up in a farming family in Sanam and worked as a porter from the age of 18. Since his initial ascent of Everest alongside Ueli in 2012, his resumé now includes four ascents of Everest, three ascents of Ama Dablam and the north face of Cholatse – of which he made the first Nepali ascent – amongst other mountains. Of Tenji, Ueli commented in a Facebook post in 2015 that he is part of 'a new generation of Sherpas, who really enjoy climbing and are not only interested in doing business.'
Last year, Ueli and Tenji also intended to make an ambitious first repeat of the Hornbein Route on the West Ridge, established by Tom Hornbein and Willi Unsoeld in 1963, en route to achieving the unprecedented traverse. Due to the risk and difficulties of the West Ridge, Jon and Tenji have this year opted for the Normal routes on both Everest and Lhotse.
The traverse ascends Everest via the Normal route before descending and retracing steps to the saddle between Everest and Lhotse, ascending the latter via the standard route up the Lhotse Face, before returning to Base Camp. Jon and Tenji have now spent four days at Camp 2 and Tenji has been up to 8000m; doing laps on the Lhotse face. Their next rotation takes the pair up to the South Col for a night and their last acclimatisation run. Jon commented on Instagram that both climbers are feeling 'strong and psyched for the traverse.'
In order to honour Ueli's preference for alpine-style ascents as much as is possible on such a commodified peak, Tenji will climb without supplemental oxygen and eschew fixed lines where sensible, according to an interview with Rock and Ice. Jon will use supplemental oxygen and be assisted by Sherpas in carrying the filming gear.
Jon summed up the premise of the expedition on Instagram:
'For me it's about honouring the memory of one of my closest friends and bringing the Nepalese climbing community to the main stage. '
---
Originally published on "UKC", https://www.ukclimbing.com/news/2018/04/jon_griffith_and_tenji_sherpa_to_attempt_everest-lhotse_traverse-71557, Accessed on April 30, 20181.
---
P H O T O G R A P H S   B Y: © Jon Griffith/Alpine Exposures